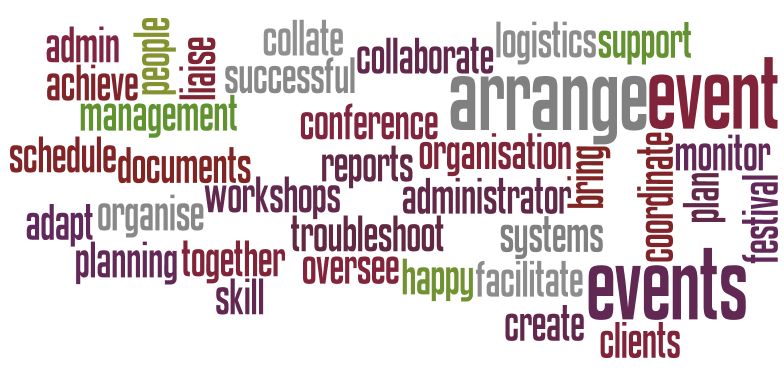 Virtual Assistant case study number six. My background is events and, because I'm often asked to help coordinate them, I thought a case study might be useful for prospective clients to see the type of work I undertake. I wrote a post on what I do at the Green Man Festival a couple of years back but this one is a bit more in-depth.
The Client
The bars company I work with run every aspect of an event bar including recruitment, training, licensing, design, build, budgeting and logistics. The Director of the company does different events each year including the New Blood art students end of year show at the Truman Brewery, but his main client is the 15,000 person, award-winning annual Green Man Festival in Brecon.
The Event
We have eight bars at the festival and the first one opens the Monday before the event goes live so family campers can take advantage of the local area and extend their trip. The other bars open on Thursday onwards and we have a 24 hour license. The festival is quite folksey with a lovely mix of families and chilled-out people so we make sure the products match this demographic. Nearly all our suppliers are from the area and most of the ale and cider is from local artisan breweries.
What people drink depends on the weather – so if it rains they want cans so they don't get rain in their drink or spill it if they slip, and on a sunny day people will want G&T's or Bloody Mary's. Of course you never know what the weather will be like so you need to adapt as necessary.
What I Do For Them
For the 2013 festival I ordered around 160 products and services from 33 suppliers. The Real Ale Bar alone had 100 different ciders, ales, perry's and lagers and I also order tills, vehicles, stationery, fridges, a team to install the beer pumps and bar equipment such as wine measures, cleaning equipment and ice buckets etc. I do around a month of pre-event work, I'm on site for 11 days and then I do some post-event analysis and reporting:
– Pre-event – I raise purchase orders for both the bars and the festival's Artist Liaison department, make sure suppliers know their delivery and collection times, ensure ale suppliers bring spials and taps, and check that everyone has parking permits and knows who to report to. I amend and update all staff and legal docs, liaise with the Accounts Department so they know what we're spending, compile the print list and basically make sure everything is in order for us to sell a shed-load of drinks!
– On site – When I arrive I set up the office, organise the interns, ensure legal and staff documents are ready for the Staff Officers arrival, set up complex Excel spreadsheets so I can monitor and track the sale and movement of each product, check the prices and names are correct on 21 tills and liaise with other festival departments on numerous other issues.
Once the festival goes live I ensure stock sheets are completed by the Bar Managers, that the stock balances (see below), that bar transfers and new stock deliveries are recorded in the correct unit, order new stock as required, chase any discrepancies and solve any issues as they arise. There are always unknowns at a large event so you have to consider every eventuality and be prepared for changes.
At the end of the festival I liaise closely with the Stock Manager to record our remaining stock and what went back sale or return, ensure all suppliers collect their empties and are paid and that the office is properly packed away for next year. I then spend two days finalising the paperwork in order to produce a detailed report for the festival organisers. This is just a basic overview of what I do and, if you work in events yourself, you'll know how all-encompassing your role can be!
The Problem
The admin work is easy but the stock side is much more complex. We buy stock in barrels, bottles, cases, cartons and pallets but sell it in pints, halves, shots, cocktails and mixers. So I have to know how many units we get out of each product, add up all the wastage, ullage, staff drinks, tokens and cocktails, and then use Excel formulas to translate it back to a percentage of a barrel, case or bottle etc so I can monitor it against the opening and closing stock counts and till readings – because they should match.
I have to allow for staff errors, new stock arriving in different units and bar staff pressing till buttons for the wrong product or even products they don't have in their bar! My spreadsheets also have to be in a particular order as I need to enter everything in the same order as they appear on the till Z stock report (more efficient use of time) but I can only do that once the tills have been programmed, and that only happens once the products have been agreed and signed off – which always happens very late in the day!
My role is pretty full-on if I say so myself. The Excel spreadsheets are very detailed, the formulas have to be exact and I work up to 14 hours a day to make sure everything tallies up.
How What I Do Helps Them
I'm not hired each year because I love festivals, I'm hired because I WILL account for every drop as best as I can.  My client knows the role is a tough one, but they like that I'm very organised, have a logical mind and if there's a way to simplify a process, document, or system to maximise efficiency then I'll be the one to find it. I'm also good at multi-tasking and liaising across departments which is really useful in event management.
This is extremely valuable to my client as the Bars Department is one of the only departments that actually makes money for the festival. Therefore the more efficient and accurate we are, the more money we make for them… plus the formulas and spreadsheets I created to work it all out makes everyone else's head explode!