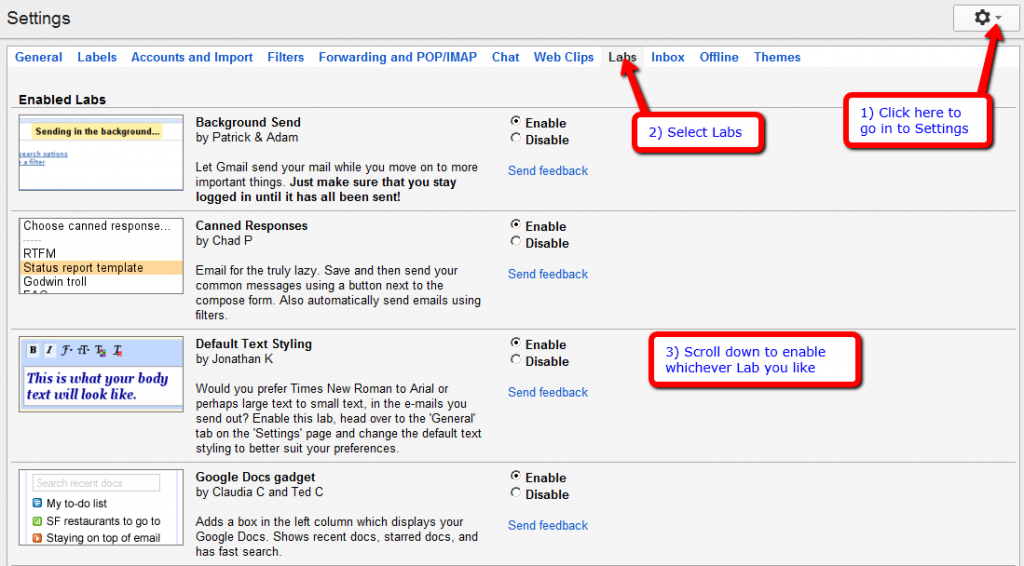 Gmail has a whole section called Labs where you can find apps you can use to tailor your account and make it work better for your needs. Some of them are very handy, some of them are just fun and others are absolutely essential!
Gmail labs I recommend:
Undo Send – Pretty self-explanatory. Being able to recall an email has saved my life on more than one occasion when I've forgotten to copy someone in or attach a document. I set mine to give me 10 seconds to recall an email.
Canned Responses – This gives me the option of sending out a 'canned response' which is basically an email template. If you send a lot of similar emails then just add them as a 'Canned Response' to save yourself the bother of writing them out each time. Just add the email to your response list and tailor each time if required.
Background Send – Basically so you don't have to sit there waiting for a large email to go before moving on to do something else.
Default Text Styling – So you can have all your emails written in the text of your choice rather than only having the standard Gmail font.
Refresh Pop Accounts – Essential if you import different email accounts and use Gmail as an account manager. Gmail imports emails quite infrequently so it can be up to an hour before it does another import. If you click the refresh arrow at the top of your inbox then it checks for new emails immediately.
Calendar and Docs gadgets – I like to have a small version of my Google Docs and Calendar in the left sidebar so I can see the last few docs I used and open them straight from Gmail as well as seeing any appointments at a glance. This is handy if you use these two features a lot.
Inserting Images – Instead of attaching an image you can put it straight into the email instead. I find this useful if I want to insert a screenshot for a client so they can see the information at a glance without having to open an attachment.
You'll want to tailor the labs you use to your business and what you use your email account for of course, but there are loads to choose from and these are just the ones I use the most.
I also use Google Docs Preview, Send and Archive and Google Maps Preview and others include seeing what time zone an email has been sent from, a Preview Pane and the ability to create a document straight from an email.