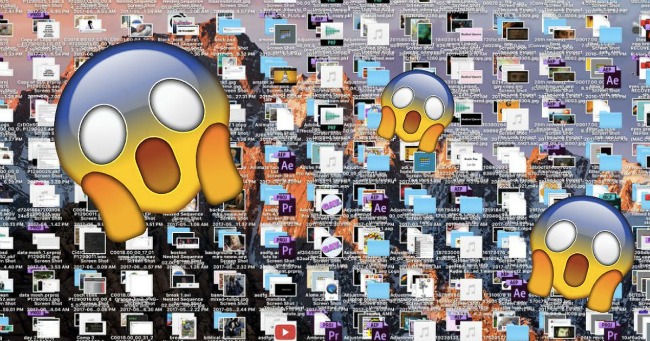 When I use a clients computer I often shudder at how cluttered their desktops are. They look like the image above which is actually the type of thing that'll give a minimalist like myself nightmares. Most of the icons don't need to be there at all and, when I've asked them why they have so many, they didn't even know they weren't vital to the running of their PC.
Some people don't realise that when they add a programme or receive an upgrade, the provider automatically adds the icon to their desktop. So programmes like McAfee, Adobe or Skype shouldn't be on your desktop at all.  You need to access Skype of course, but you can simply add it to your quick launch menu instead. People think if they delete the icon then they either delete the programme, their computer will explode, or the sky will fall on them.
How to Add Things to Your Quick Launch Bar
Your Quick Launch bar is the (usually grey) bar at the bottom of your screen; on mine I only have Chrome (which is my chosen browser instead of Internet Explorer or Mozilla Firefox) Skype, Dropbox, Mozy Backup, and Notepad – and that is it!
If youwant to add a programme to your Quick Launch bar you simply right click the item you'd like to add and select 'Add to Quick Launch'; if  it doesn't look like there's enough room on the bar then right click the bar, click 'Lock the Task Bar', add the item and then lock the task bar again.
If you have documents you'd like to keep on your desktop because you're working on them, then create a folder instead and pop everything in there. On my own desktop I have:
My Munro PA Folder – My VA business stuff, invoices, client docs etc
Jo Stuff Folder – Personal documents that I use a lot
Blog Folder – Where I keep ideas and images for my blogs
In-Progress Folder – Where I keep documents I'm currently working on
If I'm working on a project then I'll also have this on my desktop – but only for the time I'm working on it. I like to see what I'm working on soon as I turn on my laptop and, because there's nothing else to distract me from seeing it, I'm immediately reminded of what I've got to do.
So clean up your computer's desktop by putting all your projects into folders, delete the 'My Computer', anti-virus, Skype, Adobe, and other pointless icons, and move the things you need most often to the Quick Launch bar.
Because if your desktop is clear then I promise it'll help clear your head as well.