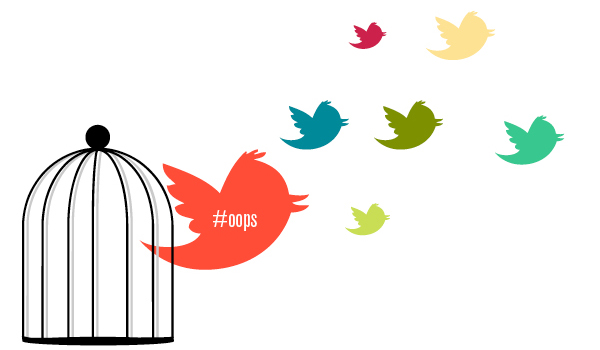 One of the most common tasks my social media Consultant clients ask me to do is analyse a company's social media presence. Sometimes they want my feedback on all the main ones – LinkedIn, Twitter, Facebook, Pinterest, Pinterest and YouTube, and other times they just need a report on how a person or company is using each platform.
The Consultant needs this analysis for audit purposes so they can quickly see how the company (an existing or potential client) is using the platform so they can improve what they're doing and ensure they're consistently delivering a professional, well-defined message that reflects their brand in-line with all their other (on and offline) marketing efforts.
As I do this task quite a lot I thought you might be interested in how I analyse a Twitter account – what I look at, what I'm looking for and how I decide whether they are "doing Twitter well" or not. You can then use this info to see whether you're rubbish at Twitter and need to refocus your efforts, or if you can smugly sit back safe in the knowledge that your Twitter presence is absolutely amazing.
VISUAL APPEARANCE
Background – I hope to see a tailored (and ideally branded) design background instead of a generic Twitter one – especially if the company is quite techie, specialises in design or should be quite media-savvy. If it's branded then text shouldn't be hidden behind their Twitter stream.
My Twitter background isn't branded but that was a conscious decision because I run two different businesses and my work comes via other sources – so my Twitter account is solely for personal use only now.
Header – I look to see if the header image behind their photo is interesting and perhaps reflects/identifies what they do. It's a good branding opportunity so keeping the standard plain black box is a waste and quite lazy for big companies.
Photo – If they're a big organisation I would expect to see a company logo and the image to be sharp and easily recognisable as belonging to their brand.
Bio – This should outline who they are, what they do, where they're based, and give me a link to their main website. Sometimes a company doesn't have any Social Media follow links on their website so I would have to do a Twitter search for them. Often there are similar companies on Twitter or fake accounts so it's worrying if I'm not even sure it's them or not.
CONTENT
Written Content – I report on whether their tweets are boring, badly spelt, short enough to be retweeted, cover a range of subjects or go off-subject, if they ask questions, and if they link to their other social media platforms/blogs/websites. I also look at links, hashtags, visuals and engagement as outlined below.
Links – I check to see if they're posting links, where the links go to and whether they're using a trackable link shortener such as Bit.ly.
Hashtags – I'd hopefully see a good understanding of hashtags, that they aren't overusing them and that they understand their purpose.
Visual Content – On the left of the screen I can see the last six photos and videos they've posted and would expect to see pertinent and visually-engaging on-brand content there.
Posting images and videos keeps a Twitter stream interesting, people like it and it's a good way for companies/people to engage followers or link to Pinterest and YouTube accounts.
BEHAVIOUR
Sharing – I would expect them to frequently share other people's content.
Engagement – This is by far the most common problem I come across. Nearly every Twitter account I analyse is just broadcasting and not interacting, replying or chatting to their followers.
Frequency – Some business accounts I look at tweet very intermittently so are not building a rapport with their followers and occasionally some post too much. It's good to see a few tweets every day with a variety of content as well as frequent engagement.
OTHER THINGS I LOOK FOR
Popularity – I look to see if they're being retweeted or favourited and whether they thank other people for doing so.
Following – I quickly look at the type of followers they have to see if they're quality or those dreadful porn or spambot accounts as this tells me whether they keep on top of editing their account and care about how they're perceived. I also look at the ratio of their followers to the amount of users they're following.
Customer Service – I'm pleased if I see them asking people if they can help or even searching for their company name to see and reply to what's being said about them. You can only jump in and help others if you're aware the conversation is actually going on!
So that's a quick outline of what I look at when I analyse a Twitter account for a social media consultant or marketer client. The biggest faults are always lack of engagement, uninteresting tweets with no incentive to click links, sporadic posting and not having a cohesive brand message.
Read my post on 20 ways to be da bomb on Twitter then go check yourself before you wreck yourself!