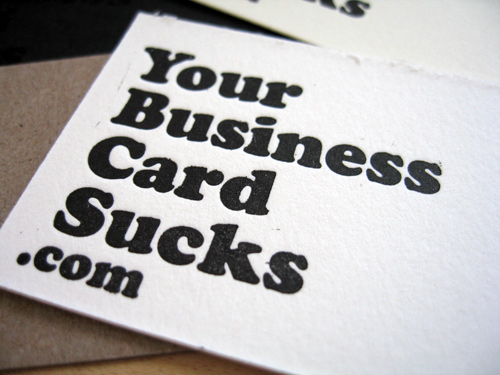 I used to do a fair amount of business card collation. People accumulated huge piles of cards whilst networking and never did anything with them even though they could be used in their ongoing marketing efforts.
Entering the details of the business card into an Excel spreadsheet, I was usually asked to record the contact name, company name, email, and telephone numbers so my client could imported the information into their email client and LinkedIn account. 
I have studied thousands of business cards – here are six of the commonest mistakes:
1) No contact name or just initials – So when I call you who do I ask for? It certainly makes a bad impression and an awkward start to any phone conversation if that was the intention.
2) An email address as long as my arm – I'd love to add jonathan.longname@reallylongnamebusiness.co.uk to my contacts, but I'd also prefer to do it while I'm still young.
3) No email address at all – That's right. Not even a free Gmail , Hotmail or Yahoo one. This is pretty poor. Even if you're a builder it's an idea to offer people another way to contact you rather than just by phone. Some cards even have a website address but no email, resulting in a potential client having to trawl through their website in search of their email address.
4) A wafer-thin free business card – I know a lot of people use free business cards but I personally think this is a big mistake. Your card says a lot about you and I'm sure most people wouldn't describe themselves as being generic, flimsy and cheap.
A website and a business card are the two things you should spend some money on. Go to Moo and get some nice ones, or signup to about.me and take advantage of the free ones they offer through Moo. You'll still have to pay P&P but that's all.
5) No mobile number – This again is something that tradesmen in particular do quite a bit. I once needed a man with a van to help me move house and, strangely enough, I gave the job to the man that answered his phone to take my business. If you're not going to be at home to answer calls then your mobile number should be on your card or your home number should divert.
6) No clue as to who you are or what you do – There really is no point in having a business card if the person you give it to has to write your name and what you do for a living on it when they meet you! And they'll probably query the standard of your work if you can't even get your own card right.
Include your address or Social Media information if you'd like to, but most people simply want to know who you are, what you do and how to get hold of you. Your card reflects you and your business and is often the first point of contact, so it needs to look professional and have these basic details on if nothing else.
There are other errors out there like having a really cluttered card, tiny text, cards that are so big they don't fit into card holders or wallets, or ones that have bits of old cards glued on the back (I've actually seen this) but these are some of the most common business card mistakes that could lose you business due to lack of information or professionalism.
There are some great deals out there if you shop around. Cards don't always have to be expensive, but they do need to give the right impression – so here's some unusual and interactive ones to inspire you!